Modern customers now demand the ability to order direct from their mobile phone and the goods delivered to their home, picked up in-store or even delivered to their table.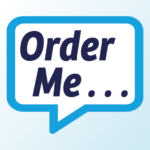 Designed specifically for the busy restaurant and fast food environment, Jupiter OrderMe provides a safe and efficient solution for customers to place food orders either whilst seated in your restaurant or beer garden or alternatively conveniently placing take-away and delivery orders when leaving work or from home.
OrderMe is in-built to Jupiter & Jupiter Cloud so no need to programme items more than once.
Orders appear within Jupiter, print on your kitchen / receipt printers or show on Jupiter Kitchen Video screens.
With Jupiter  OrderMe there are no commission charges, your business will be listed in our venue directory and card charges are far less then the general on-line app's.  All orders are automatically processed through your Jupiter Point of Sale system along with your traditional sales channel.  In addition, if your system has a kitchen order printer or kitchen video system all orders from OrderMe will be sent through the kitchen prep area automatically.